---
How was my journey towards rats?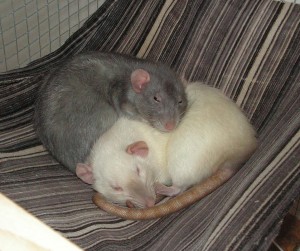 Well, I don't know exactly. From my low age I desire to have a rat even when I know nothing more about them. Probably I was influent by a book called "The Wizard of Earthsea", where exist a small rat-like animal. This creature looks different than a rat, but it behaves like a rat. Small shaggy and faithtful friend that was always hiding under the wizard's cloak.
Firstly I had two Russian dwarf hamsters that lived for three and a half years. Later we had or have in a family the gerbils, a guinea-pig, some cats and a dog. After five years I persuaded my parents to let me have a rat. I have got four rats one after another, but no for breeding only for a fun as my life company. When I have got my first pedigreed rat I decided to try having a rat babies. My first litter after Pimpinella was suscribed under the Rattery Skanálu as a litter C. That was my "breeding" beginning, but I still hadn't my own rattery. All that came later and I founded my own rattery. I hope all my ritten will get great owners and they will have long-lasting healthy life!
My start with rats wasn't very happy. I had rats from petshops or from propagators. They wasn't so healthy as I assumed they will be. Unfortunately some of them died too soon. :-( But I went through bad times and I think I made well. Stories of my late rats is in the Rainbow bridge and some short tales about my living rats you can find after their names in the articles My does. I wish you nice reading!
Why the name of rattery "X-rats"?
Maybe some of you have an idea why but I will rather explain it. I was inspired by a film called X-men. The specification "X-men" is for people, who have some paranormal (supernatural) skills. When I had my first rittens I realized that rittens have dozens of those skills. All they were able to do such unbelievable things! I didn't delay long and choose this name.
If you have a ritten from me, won't forget you have a ritten with some extraordinary power, because it's not some kind of normal ritten, it's the X-rat!
What are plans and aims of X-rats in breeding rats?
My breeding beginning is subscribed above. Several things have changed from that time, though. With every litter (good or aborted) I have learned something. With every year spent by studing scientific university (focused on rodents) I have learned something new and many other circumstances around breeding leads me further to study hour all possible information. According to me I had also big life lessons with behaviour of some Czech "breeders" the same way like with hypocrisy of some ritten aplicants or with funny "qualification" of some vets.
Probably the biggest break for me and my rattery came with my Dutch import. It was a break from all sides. I have learned something about foreign way of breeding and discuss it with really open people. Happily for more my imported doe Elfarran took a birth of rare colour "Golden Himalayan" and that steers me towards English breed.
Due to very kind and skilled breeder Estelle Sandford from Alpha Centauri Stud I have known breakable breeding information. Although it was completely new for me I didn't delay long, because Estelle's results talks for everything. I remember very well why I started breeding rats - because of its increasing health quality. As for me it's not a coincidence between the Czech manner of breedng and its getting worse health (of course it's not the one reason). I decided to follow Estelle's councils and I hope everything will be fine and I will finally get much healthier lines.